Welcome back to this month's update of the Moby Flagship Technology Portfolio!
If you're familiar with this strategy please skip down to the section labeled, "Performance Overview".
If you're new to this portfolio strategy, its goal is to outperform the market by primarily investing in tech companies that are undervalued, while also taking on less risk!
We do this by building algorithms that use Artificial Intelligence (AI) to find companies with above-average earnings and revenue growth but at normal or undervalued valuations.
And as we saw in 2022, value outperformed growth stocks in a very significant way.
That's because, for the last year+, investors have only cared about companies that are growing responsibly and with valuations that are reasonable. Gone are the days when growth at all costs was an actual business strategy.
Nowadays, while growth is important, you need to grow "right". So that's why our algorithms have been looking for stocks that are growing but only at a reasonable price with growing & positive cash flows.
And that's why this strategy has done so well this year! In the last few months alone, it's returned 11.7% while the market only returned ~7% (more on this below).
For a more in-depth explanation of how this strategy works, just read this post!
Therefore, today we're going to cover:
The portfolio's performance.

The stocks that performed well and the stocks that didn't.

This month's trading updates.
Performance Overview:
In another crazy few months for the market, our Flagship Tech Portfolio returned 12% while the market returned 7%.
So what happened? Well, over the last few months, the AI boom has really started to hit the limelight.
While the boom is far from over, this year's theme really materialized this week as Nvidia reported earnings and showed the world how in-demand AI really is.
Thankfully, while the portfolio didn't own Nivida, it did own KLAC & MPWR -- who are both beneficiaries of the AI boom.
And while Nvidia is a great company that we believe in, for the goal of this portfolio, it falls outside of the valuation screen.
However, MPWR and KLAC still screen positively and that's why we were able to outperform the index this month while also taking on less risk.
If you have more specific questions on how the portfolio works or any of the positions, just message us!
And now onto the performance 👇
Performance Snapshot: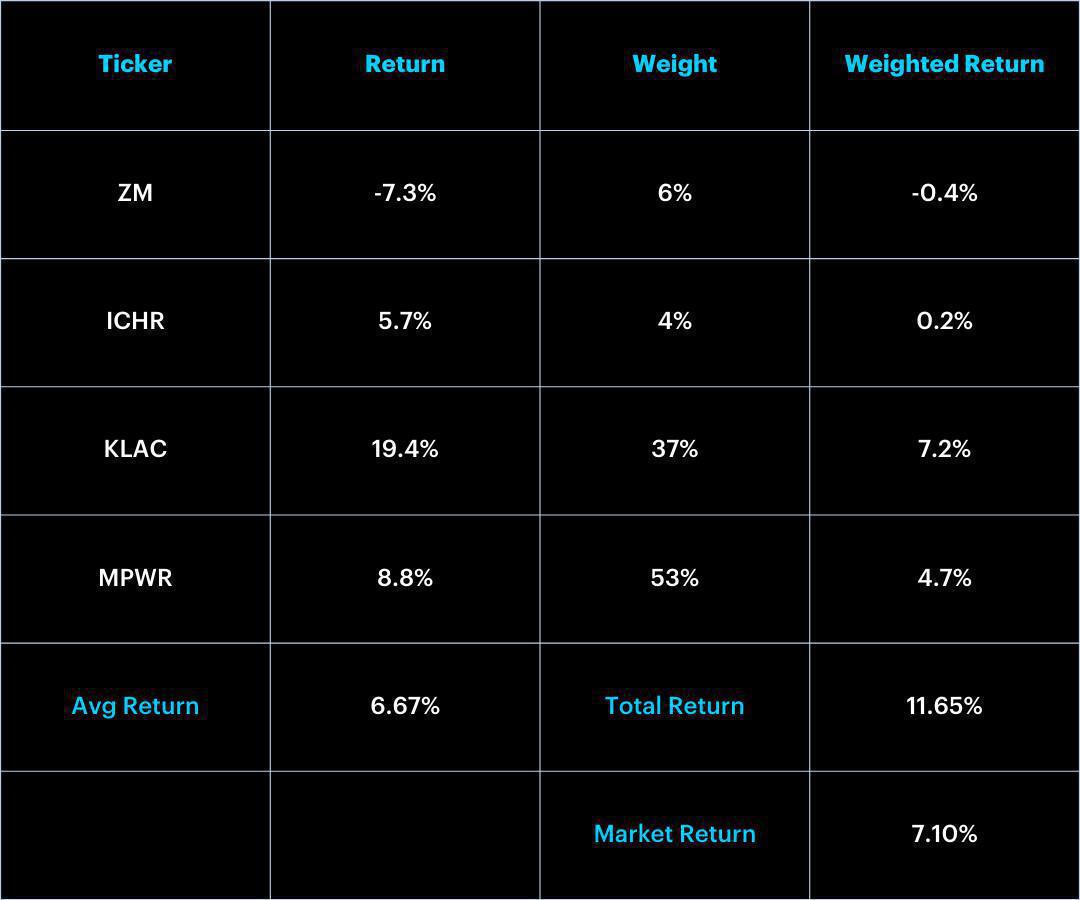 New Portfolio: